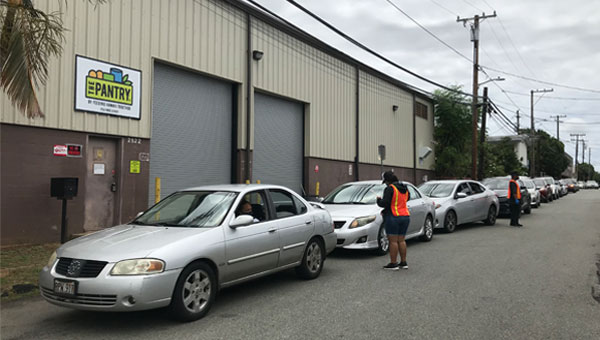 In these trying times of food insecurity in Hawaii, partners Jesse Smith and Laurel Loo, unbeknownst to each other, threw their support behind a new food pantry in Hawaii, Feeding Hawaii Together.
Jesse, a litigator, is a recent addition to the board of directors of Feeding Hawaii Together, which operates out of a new warehouse in Kalihi under the name "The Pantry." Laurel, who runs the M4 Kauai office, had just taken on The Pantry as a pro bono client. Its Executive Director is Laurel's niece.
The state had been on lockdown due to COVID-19 for only a few hours when The Pantry had its grand opening – which had been planned for months. Its brand-new Executive Director, Jennine Sullivan, had only taken the job two weeks earlier when these two events occurred, throwing her into the politics of food insecurity and non-profits angling for food donations.
Laurel's church on Kauai, The Church of the Pacific, a United Church of Christ member, runs a huge food bank in Princeville. The church's food bank was recognized two years ago for giving away 700,000 pounds of food on Kauai, the most of any other organization. So Laurel had been encouraging her niece, Jennine, to take on the non-profit. Jennine, a 2007 Punahou School graduate, had been grinding away as a Venture Capitalist for General Electric on the mainland. She returned to Hawaii last year to find more meaningful work in her home state.
There's a lot of meaning in feeding Hawaii's hungry, especially now. "Since the COVID-19 pandemic hit, our demand for food has increased by 1,200% with so many unemployed and businesses shut down," said Jennine. "It's important, now more than ever, to look at creative solutions to assist our families and those in need."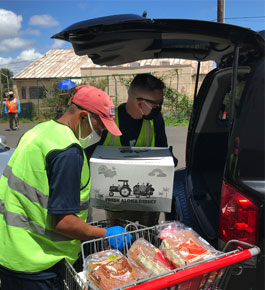 Jesse, who was raised in the Northeast and spent many years in Japan, says he had never really seen hunger up close and personal, but became extremely concerned about Hawaii's vulnerable population when he saw the alarming statistics on food insecurity in Hawaii. COVID-19, of course, has exasperated that insecurity. "I am hoping to be able to help The Pantry by increasing its clientele and getting the word out about its mission to feed Hawaii," said Jesse. "We also need volunteers to sort and distribute food during our drive through / walk through open hours." The Pantry takes volunteers on almost any weekday to fill and distribute dry goods, fresh produce and products, and frozen goods.
The Pantry has a slightly different manner of giving out food than other food pantries, one that has been recognized as extremely sustainable and empowering. Clients shop for their own food, as if in a traditional grocery store. But with COVID-19, they now do it online, and then pick up their online orders in the drive through / walk through system at The Pantry on a pre-arranged day, picking up the items that they ordered.
For more information on The Pantry, as well as volunteer opportunities, please visit www.thepantry.org.